Hello Haddonfield Neighbors:
Thank you for visiting my site and taking the time to learn more.  I hope that this page helps to inform your decision - and that I earn your VOTE in 2021.
My husband Anthony and I moved to Haddonfield in 2015.  We share the belief that this is the ideal community to grow our small businesses and raise our family.  That is why I volunteered as a member of the Zoning Board, Haddonfield Lions Club and our Haddonfield Celebrations Association before running to fill the unexpired term of a Borough Commissioner in 2019.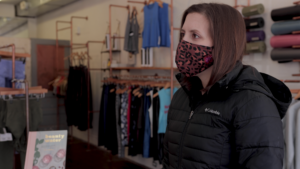 Aside from my commitment to our community, I offered a fresh perspective, a female voice, and a wealth of experience, all while leading by example: I've spent over 10 years as a local government lawyer, advising public agencies regarding New Jersey municipal, land use & redevelopment law, including public contracts and affordable housing, as well as the Open Public Meetings Act ("OPMA") and Open Public Records Act ("OPRA") - both of which are critical to maintaining transparency and inviting citizen participation.
Prior to this, I served as the youngest female municipal manager in the State of New Jersey.  In this role I conceptualized & managed projects designed to increase efficiency & transparency.  My efforts gained bi-partisan support and resulted in successfully implemented system upgrades & departmental improvements. Aside from overseeing the day-to-day operations of an entire Township, I managed all staff, performed all grant writing functions & oversight, handled collective bargaining negotiations on behalf of the Township, implemented the municipal budget, created the Township's first website, participated in the Township's Master Plan update, and served as the Township's Emergency Management Coordinator.
Before becoming a municipal administrator, I served over 20 Camden County municipalities as a consultant and project manager, including the Borough of Haddonfield.  In this capacity, I managed a wide variety of economic development projects, while also implementing & overseeing business improvement districts such as the Partnership for Haddonfield ("PfH"), performing grant writing & monitoring services, calculating financial incentives, writing speeches & press releases on behalf of municipal officials, and developing municipal marketing materials.  Aside from working to establish the PfH, I also achieved an intergovernmental agreement with PATCO to permit weekend parking for Borough visitors, and "Best of Philly" recognition in Philadelphia Magazine.
Since being elected in 2019, I was humbled & excited to serve as the second female Commissioner in our Borough's history. Another historic element of my first "term?" The global coronavirus pandemic.  I spent each day working to preserve the health & safety of our residents, and supporting our small businesses.
Like many of you, I have been heartbroken, overwhelmed, and at times, exhausted by the impact of COVID-19.  Despite the difficulties of the last 12 months, I remain committed to our community and the work I set out to do in 2019. If elected, I pledge to continue leading by example, listening to you, and lifting our Borough up as we collectively attempt to recover from the pandemic.
Best,
C
Contribute to Colleen's Campaign
Even small, local campaigns incur large costs.